Hechler's stock a full line of Pearl Shelf Mantels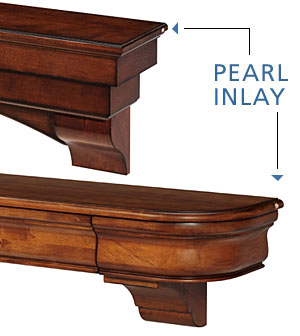 Each of our pieces is lovingly branded with a Pearl inlay—your gurantee of authenticity.
The inlay is neatly masked on our unfinished pieces making it easy to paint or stain in any color to match your home decor.
Each product will also ship with a Pearl Certificate of Authenticity. The certificate is your assurance that you're receiving a genuine, fine furnture quality product from Pearl Mantels that will enhance any room in your home.
The Auburn Shelf – No. 495
Actual finish colors and distressing may vary from photos.
48″, 60″, and 72″ Lengths
Wood mantel shelf.
Available both unfinished and in #70 Cherry Distressed finish at additional cost.
Paint and stain grade.
The Auburn Shelf offers three design choices! You have the option of installing just the shelf, the shelf with cobels, or the complete combination of shelf, corbels, and arch.
Shelf Specifications
No. 495 Auburn Shelf
495-48
495-60
495-72
Available Finish
Unifinished or
No. 70 Cherry Distressed
Unifinished or
No. 70 Cherry Distressed
Unifinished or
No. 70 Cherry Distressed
Top Shelf Length:
48″
60″
72″
Top
Shelf Depth:
9.5″
10″
10″
Bottom Base Length:
42.5″
52.5″
64.5″
Bottom Base Depth:
5.875″
6″
6″
Distance b/t Corbels:
31″
40.5″
52.5″
Width of each Corbel:
4.75″
6″
6″
Height of each Corbel:
5.875″
6.75″
6.75″
Overall Height w/Corbel:
12″
15″
15″